Free Classroom Posters
Display these colorful and informative posters to support digital citizenship in your classroom and school. Download below to print, share with students, or add posters to your class website. You can also:
Get swag at the Common Sense Education store
Posters for Teachers
Check out these tips and best practices about privacy and teaching with technology for teachers. 
1
Protecting Students' Privacy on Social Media: Do's and Don'ts for Teachers
Image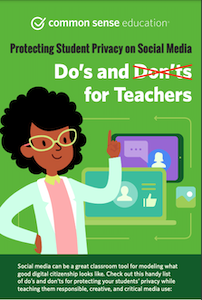 Share these do's and don'ts to help teachers protect students' privacy. This is one of our most popular posters -- great for the teacher's lounge!