Support students' learning, and find the best video streaming sites for schools and classrooms.

So you want to stream a movie, TV show, or documentary as part of a lesson in your classroom? Great! Watching videos and interacting with visual media are engaging ways to help students learn. 
But you probably have a lot of questions: Will my district allow me to show movies in my classroom? What are the best video streaming services for schools? How does copyright law apply to schools and classrooms? How can I find movies and videos that are appropriate for school? And of course, how can I help my students learn as much as possible from movies and videos?
The tips and suggestions in this article are here to help you. Plus, we've also curated a list of some of the best streaming platforms you can use to find movies, TV episodes, documentaries, and other videos that might be great for your classroom.
To top this off, if you're interested in how these streaming services compare in terms of user's data privacy, check out our report: Privacy of Streaming Apps and Devices: Watching TV That Watches Us.
Tips for Showing and Streaming Movies and Videos in Your Classroom
Image

Follow your school or district's policies.
First and foremost -- and we can't say this enough -- check to see if your school or district has policies about streaming or showing movies and video content in classrooms. Every school and district is bound to have its own policies, rules, and norms around using video content for learning. Bottom line: Ask an administrator or your technology department for guidance before you get started.
Image

Use movies and videos to enhance students' learning.
Visual media can be great for learning, and not just because it's engaging! From a media literacy perspective, it's important for students of all ages to learn how to think critically about different types of media -- including movies and videos. Just as students learn to read and write, being media literate in today's world also demands that students can "read" visual and video-based media. Every time you show a movie, TV show, or video in your classroom, there are opportunities for this kind of learning to happen.
Movies, TV shows, and videos can also be an excellent way to bring diverse stories and voices into your classroom. Through both documentaries and fictional accounts, you can highlight the experiences and perspectives of people from under-represented groups. If you're searching for content to show, many of the streaming services listed below have curated lists, categories, and search functions to help you find movies, TV episodes, and videos that feature diverse perspectives.
If you're looking for more information about bringing media literacy into your classroom, we have tons of great resources and articles to help:
Image

Consider copyright and fair use.
In terms of copyright, if you have a subscription to an educational streaming service -- one specifically designed for classroom use -- you should be fine. But what about a streaming service that's not specifically meant for school use, meaning consumer services like Netflix or Amazon Prime Video?
The short answer is that these are probably OK, too, but it depends on how you use them. The longer answer? An exemption to the U.S. Copyright Law permits the use of streaming services and other performance displays in the course of face-to-face teaching activities in a nonprofit educational institution, classroom, or similar place devoted to instruction. In other words, you can show your students a movie in your classroom as long as it has an educational purpose, according to the law. That said, the terms and conditions for some streaming services indicate they are for "individual use" only. So, while it's unlikely that streaming service administrators will hunt you down for showing a movie in class, the terms and conditions do supersede fair use. What you definitely can't do is, say, show a movie from a streaming service in your gym or cafeteria and charge for admittance. That's an absolute no-no.
So what about streaming a movie for students remotely? During times when distance learning is necessary, a lot of teachers may want to show students films and videos. Is that allowed? Technically speaking, the answer here isn't clear since the instruction wouldn't actually be face-to-face. As always, check with your school or district's administration to get their advice if this type of situation applies for you.
Image

Watch out for technical issues.
You're bound to have some technical issues to contend with, and your school building's network speed and bandwidth are the most likely concerns, though internet filters could also be a problem. In terms of network speed, it's best to use a hard-wired connection (instead of Wi-Fi) to get the best streaming speeds.
When it comes to bandwidth, pay attention to how well video content tends to stream in your classroom during different parts of the day -- your success may depend on how many others are using up bandwidth on your school's network at the same time.
As much as possible, it's best to troubleshoot any potential technical issues that might come up before class starts. Your school's technology coordinator or IT department may also be able to help.
Image

Be conscious of privacy and advertising.
It's important to be aware of data privacy any time you or your students use a digital tool in your classroom, including streaming or video content. In most cases, you'll be projecting a movie or video to the front of the classroom for all to see. If this is from a teacher (or school-owned device and account), then students' data privacy probably won't be a concern.
However, any time you're asking students to use a personal device –- whether it's school-owned or their own -- it's important to keep data privacy in mind. Remember that most online or streaming video services are likely collecting behavioral data from users, and these apps may not be COPPA compliant for use in schools. This is especially true when it comes to consumer-focused services -- like Netflix, Disney+, or Hulu, just to name a few.
Common Sense Media's analysis of the privacy practices of the most popular streaming apps showed that nearly all (with the exception of AppleTV+) have privacy practices that put consumers' privacy at considerable risk. This included selling data, sending third‐party marketing communications, displaying targeted advertisements, tracking users across other sites and services, and creating advertising profiles for data brokers. All of which are things you don't want happening to your students, especially because of a school assignment.
Also, be aware that some services run ads before and/or during videos. Of course ads are disruptive, but they're also a thorny ethical issue for schools and teachers. Should students ever be subjected to advertising in a learning environment? As always, it's best to follow the policies of your school or district. Note that a number of the education-specific streaming services listed below either don't have ads or offer ad-free school-wide (or district-wide) subscriptions.
Image

Don't use your personal account, if possible.
You might be tempted to use your own personal subscription to stream videos in your classroom. This might be OK in some circumstances, but just be aware that a lot of these apps tailor and suggest content to each user. The movies and content you've watched in the past –- as well as content recommended just for you –- might pop up for anyone in your class to see, and it may not be appropriate for students. Bottom line: If you have a classroom-specific account, or if your school provides a shared account for teachers to use, it's probably best to go that route.
Image

Find the best movies, TV shows, and videos for students' learning.
With so many options out there, finding the right movie, TV show, or video for your lesson or unit can be challenging, especially if you're looking for something that's classroom appropriate. Our colleagues over at Common Sense Media have reviews for many, if not most, of the TV shows and movies you might want to show. Keep in mind that these recommendations are aimed at parents and families -- not teachers -- but the age rating and content grid in each review can serve as a useful guide.
Streaming and Video Services for Classrooms
Image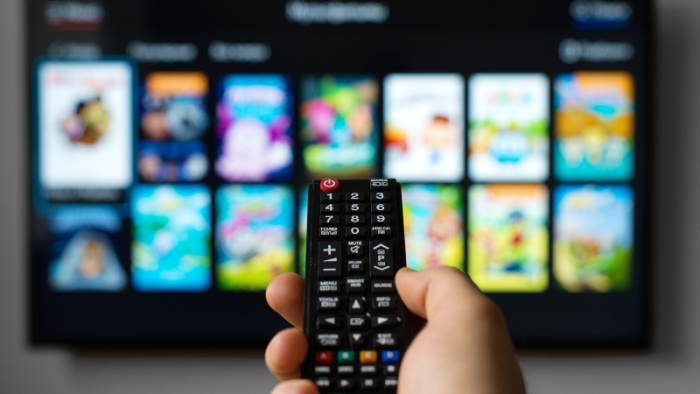 Because there are so many streaming services available, we've broken this list into three parts. You can jump to a section using the links below:
Keep in mind that the titles available on these services sometimes come and go as content libraries expand and change –- what you see on there one day might not be there the next.
Consumer and Streaming Video Services
Here are some of the best-known consumer video and streaming services, along with what you'll find on each. Keep in mind that these services aren't programming content with educators in mind. That said, you can often find great content that relates to your curriculum.
Image

Movies, TV shows, documentaries, and sports for adults and children. The Kids section makes it easy to find programming for children. Movies and shows are categorized by age as well as by topics such as animals, learning, transportation, favorite characters, and more. For suggestions, see Common Sense Media's curated, age-based lists: Best Kids Movies on Amazon Prime Video and Best Documentaries on Prime Video. Price: Monthly or annual subscription.
Image

Movies, TV shows, documentaries, and sports content for adults and children. Kids programming includes topics such as emotional awareness, environmental issues, immigrant stories, critical thinking skills, and more. For suggestions, see Common Sense Media's curated, age-based list: Apple TV+ Series and Movies. Price: Monthly subscription.
Image

Original and classic series with a focus on science, natural history, adventure, and more. Series include the BBC's large natural history collection, featuring shows like Planet Earth, Blue Planet, and Frozen Planet and popular shows from A&E, History, and Lifetime channels. Price: Monthly subscription (an upgraded ad-free subscription is also available).
Image

Movies, TV shows, and documentaries for adults and children. Find programming from some of the most well-known kids brands, including Disney, Pixar, Marvel, Star Wars, and National Geographic. For suggestions, see Common Sense Media's curated, age-based list: Best Kids Movies on Disney Plus. Price: Monthly or annual subscription.
Image

Movies, TV shows, and documentaries for adults and children. Numerous series cover topics such as science, history, animals, innovation, astronomy, and the oceans. For suggestions, see Common Sense Media's curated, age-based list: Best Kids Movies on HBO Max. Price: Monthly subscription.
Image

Movies, TV shows, documentaries, and sports for adults and children. Kids programming covers nature, space exploration, numbers and counting, painting and creativity, history, and food. For suggestions, see Common Sense Media's curated, age-based lists: Best Kids Movies on Hulu and Best Documentaries on Hulu. Price: Monthly subscription.
Image

Movies, TV Shows, and documentaries for adults and children. Over the past few years, Netflix has developed a lot of original programming for kids, including documentaries on a variety topics, such as the Holocaust, bias in the tech industry, college admissions, drug use, and climate change. For suggestions, see Common Sense Media's curated, age-based lists: Best Kids Movies on Netflix, Best Kids TV Shows on Netflix, and Best Documentaries on Netflix. Price: Monthly subscription.
Image

Movies, TV shows, documentaries, and sports for adults and children. There are over 85 channels with lots of kids programming, including Nickelodeon, National Geographic, and PBS Kids. Price: Monthly subscription.
Wait, there's more!
Additional video streaming content providers include The Criterion Collection, Paramount+, Peacock, Pluto TV, Tubi, and Vudu, among others.
Education Streaming and Video Services
Most of these platforms are designed specifically for classroom use. While some are free, most are offered for a price. You'll see some familiar teacher favorites here, but also some lesser-known options for finding great educational video content for your classroom.
Image

Over 5,000 videos covering math, science, English, and test prep. All videos follow the same format: teachers giving video lessons on various topics. Many instructors graduated from top universities in the nation, including Harvard, Yale, Stanford, Cornell, and Columbia, among others. Price: Monthly, semi-annual, or annual subscriptions.
Grades: 9-12
Read our review of Brightstorm
Image

Moby and Tim "host" animated videos on this teacher favorite, helping kids learn about a wide range of challenging topics, such as genetics, geometry, and economics. Teachers can see students' quiz results, run a class-wide analysis, and give students feedback on their progress. Price: Monthly and annual subscriptions.
Grades: 4-8
Image

Created by the founder of the Discovery Channel, there are thousands of documentaries and nonfiction video programs covering STEM, history, innovation, world cultures, arts, and SEL. There's also a section curated just for kids. Price: Monthly and annual subscriptions.
Grades: K-12
Image

While technically not a dedicated content provider, Edpuzzle is a useful tool that lets teachers and students use existing online videos, then crop and customize them with their voice-overs, audio comments, embedded assessment questions, and additional resources. Price: Both free and paid options.
Grades: 3-12
Image

This platform delivers clever, educational hip-hop videos, songs, and supplemental activities covering topics from math and language arts to social studies, science, life skills, and, of course, vocabulary. Price: Free to try, with a paid subscription option.
Grades: K-12
Read our review of Flocabulary
Image

These fun collections of music videos, games, and activities offer opportunities for short bursts of physical exercise in the classroom -- aimed at helping kids focus and build brainpower. Price: Free
Grades: Pre-k-8
Image

Designed to be like a "YouTube for schools", the site has user-uploaded educational videos covering a variety of academic topics. Includes a dashboard where creators can see viewer engagement and analytics. Price: The free version has ads; the paid, the annual subscription is ad-free.
Grades: K-12
Image

SIMA calls itself the "Netflix of social impact education" with a curated collection of more than 200 short documentaries and VR experiences from 140 countries. Videos cover a variety of topics, from global human rights issues to the United Nations' sustainable development goals, social entrepreneurship, and more. Lesson plans are also offered. Price: Free to try; monthly and annual subscriptions available.
Grades: 6-12
Image
This streaming platform designed with schools in mind has a library of over 20,000 feature films, foreign films, and documentaries. There are film curations available for elementary, middle, and high schools. Films include closed captioning, and alternate languages. Price: Paid
Grades: K-12
Image

Short video talks curated into topics of interest. You can explore the Topics tab or the Playlists to find content for students' learning. TED-Ed, a related free service offers animated educational videos and lesson materials for teachers. Price: Free
Grades: K-12
Read our reviews of TED and TED-Ed
Wait, there's more!
There are plenty of other educational video services that offer streaming and downloadable content for schools, including CosmoLearning, Critical Media Project, MathTV, and Mosa Mack Science among many, many more.
Library Streaming and Video Services
The two platforms below offer an excellent way to find free movies and videos through your local public or university library. Simply use your library card to stream content from any location.
Image
Kanopy makes thousands of videos available for free through public and university libraries. To check out a movie or video, you'll just need a library card, and that library must subscribe to Kanopy. Categories include movies, documentaries, foreign films, classic cinema, independent films, and educational videos. Kanopy Kids is a curation of children's movies and shows, only available from public libraries. And don't forget that you can check out DVDs from the library, too! Price: Free with a library card.
Grades: K–12
Image

Borrow movies, TV shows, music, audiobooks, ebooks, and more for free from public libraries that subscribe to Hoopla. All you'll need is a library card. You can use the categories or search filters to find a solid selection of content for your classroom. The KidZone is a section with children's movies. Price: Free
Grades: K-12